Multi-Functional Dog Leash
This 5 in 1 Multi-Functional Dog Leash is your perfect walking accessory. Keeping your pooch well hydrated should be your top priority. This multipurpose dog leash is all you need. Walking your pooch just got a little lighter.
This leash includes everything you need for your daily walk – Leash, Water Bottle, Collapsible Bowl, Waste bag dispenser, and a hook for carrying used waste bags.
Benefits
Built to endure. Experts say nylon is one of the best materials for a dog leash. We've used double-strength nylon for this product so it will last you for years, making it a really sweet investment.
Re-hydrates your dog! Yes, this leash can store water and comes with a collapsible bowl so you can conveniently give your pooch a quick drink even when you're outside. The best part? They're made from food-grade materials.
A waste-free experience. No more carrying of a separate bag for when your dog needs to use the bathroom. This revolutionary leash is equipped with a waste bag dispenser and a hook to carry the used ones.
Designed for style! The dog leash comes in three different colors allowing you to pick one that matches your preference.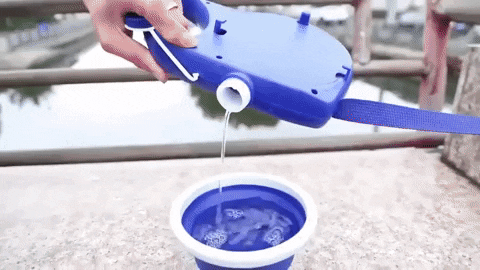 Package Includes 
1 X Multifunctional Dog Leash