Tired of your cats scratching and damaging your favorite new furniture?
Use our Sticky Furniture Scratch Protector for easy and unnoticeable protection today!  Designed to keep the same look and feel of all your furniture. At the same time provide protection and care so that your hard-earned money doesn't have to go towards unnecessary repairs. 
Benefits 
Invisible Protection - Our Scratch Protectors are 100% transparent so you can place them where your pets scratch the most, they won't be noticeable to guests either. 
Easy To Apply - Simply peel the sticky covering off and apply to the places your cat scratches the most. Use the included tacks for extra stability. Recommended to use on all types of furniture. 

 
Reuse Anywhere - Once they stop using the spot, simply remove the protector and reapply as needed. The material that is used causes cats to slip right off.
Apply Anywhere - Our protectors can be placed on leather couches, most types of fabrics, polyester, or just about every material. Place them where they are needed most and remove them with ease.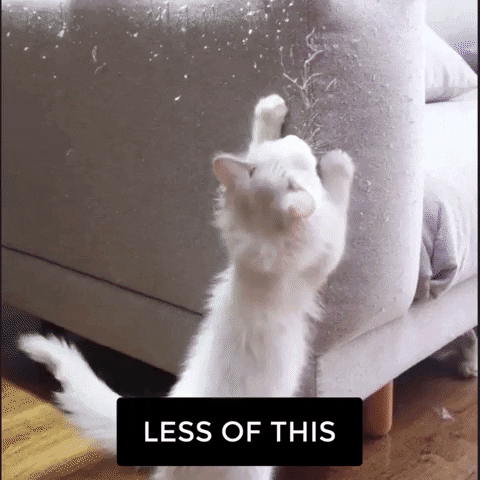 Designed To Help
• Train Your Pets - Apply our premium protectors to the places your cat scratches the most. They will learn where they can and cannot scratch.
• Reduce Unneeded Stress - Stop stressing about constantly watching your animal, with the fear that they will ruin your new or favorite piece of furniture. 
• Prolong Your Furniture - Keep your furniture in perfect conditions and enjoy your favorite spot in the house for longer.
Package Includes
1 x Furniture Scratch Protector (4, 8, or 12 Pieces)
1 x Instructions Manual 
Please Note: The sizing for one piece is 47cm X 15cm or 18in X 5in