The Most Comfortable Pet Bed Ever
Our fur babies need their own special snuggle place to feel comfy, cozy and loved. Treat your most beloved companion to a little luxury with our Fluffy Pet Be
Benefits
Superior Comfort  - Designed with extra care,

 

your pets comfort is our number one priority.

 

Your fur baby will get an ideal night's sleep in this

 

luxurious bed. Designed with a deep crevice that has a cushioned raised rim,

 

your fur baby will feel like they have loving arms wrapped around them.

 

The bed allows your pet to burrow deep in sleep with optimal head and neck support while providing them with exceptional comfort, giving your pet a full, restful sleep that will improve their behavior and overall health.
Versatile Design - One of the main reasons we designed the Fluffy Pet Bed

 

was for your fur baby to feel right at home!

 

That's why we designed this to to be as cuddly and soft as your pet! The bed can be a

 

great addition to accommodate the design of any home, perfect for any room's décor, lounge, office, living room etc. The Fluffy Pet Bed is also made with water and dirt resistant bottoms,

 

making spills and accidents easy to clean up.
Made From Safe Materials - Made from premium nylon fabric and finished with a lush faux fur exterior, we aim to provide your pet with the most comfortable sleeping arrangement imaginable. For added convenience, cleaning the bed is extremely safe in the washing machine and dryer.

 

(Machine wash, gentle cycle. Tumble dry, low heat)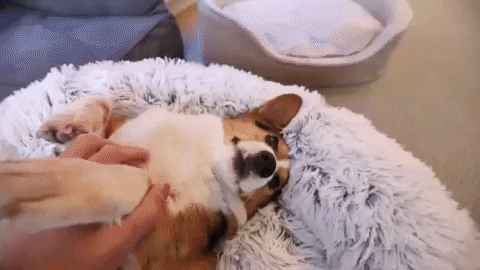 Calms Your Pet Down
Proven to ease anxiety, our Fluffy Pet Bed can help relax and ground your fur kids if they seem to be anxious or hyper. This concept is known to therapists, who have been using it for decades to help ease anxiety. 
The raised rim creates a sense of security, almost like being in a mothers arms. Activating the nervous system in a positive way which allows your fur kids to calm down faster, relax more easily, and sleep more soundly.
We also recommend you measure your dog when it curls up, you should then be able to get an indication as to which size is perfect for your dog. 
Package Includes
1 X Calming Pet Bed